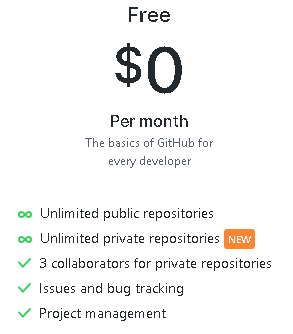 Github Free
Previously, if you've wanted to create a private repository on GitHub, you had to be a paying user. That's one of the reason that I only using Github to host my public repositories, and using Bitbucket for my private repositories (Which is I'm very thankful for their service and recommended it for all of you - you guys done a very great job!). On another hand, another competitor, Gitlab also offering unlimited private repos for their free users.
But, the good news is: starting on 8 January 2019, GitHub Free now includes unlimited private repositories. Developers now can use GitHub for their private projects with up to three collaborators per repository for free (The amount of collaborators is really the only limitation here - which is better than "nothing"). Many developers want to use private repos to apply for a job, work on a side project, or try something out in private before releasing it in public. Now, those scenarios, and many more, are possible on GitHub at no cost. Public repositories are still free (no changes there) and include unlimited collaborators.
GitHub Developer, its entry-level $7 monthly plan, has been re-branded as GitHub Pro.
---
Microsoft closed its acquisition of GitHub on October 2018, with former Xamarin CEO Nat Friedman taking over as GitHub's CEO. Chris Wanstrath, the GitHub co-founder (and Github ex-CEO), take the new title of Microsoft technical fellow and remain an adviser to the company.